Google Chromecast – Gadget of the week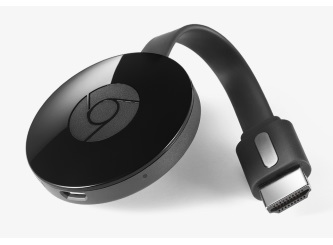 More and more people are dropping off their cable boxes and switching to online streaming services such as Hulu and Netflix.
I haven't had to pay for cable in over 3 years thanks to Netflix. Mostly I watch my shows on my computer or tablet, but recently I bought a smart TV. The beauty of a smart TV is that once connected to Wi-Fi, it handles all of my streaming needs. Most of us however do not need a new TV or do not have the money to invest in a smart TV. I know of a device that can save you the hassle and the money. For Christmas I rediscovered this device that I never had a chance to play with until last week. Its called a Google Chromecast. Its a small device, no larger than a credit card and it plugs into any TV equipped with an HDMI plug.
This device costs as little as 30$ and instantly transforms your TV into a smart TV as long as you have the following:
Good wireless internet
and
a Smart phone/Tablet
That's it.
Plug in the device. Switch the input on your TV to HDMI and the Google Chromecast

walks you through the whole process itself. There's a simple app to download on your Phone and then all of your other apps becomes capable of streaming to your TV. Here's a short list I've come up with after playing with it for a week.
Youtube
Hulu
Twitch
Netflix
iHeartRadio
Pandora Radio
Amazon Instant Video
HBO Go
There is also an option to stream your live phone to your TV, creating an instant presentation right from your phone. The possibilities on this little device are limitless. For 30$ this is the perfect gift to pick up during the Post-Holiday sales. Let us know if you have any other questions about your TV's, streaming or Google Chromecast

.