Avoiding microsoft tech support scams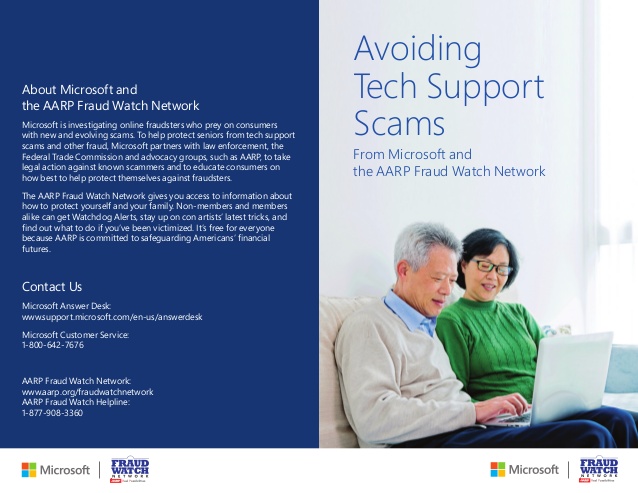 How to protect yourself from microsoft tech support scams
Tech support scams are an industry-wide issue where scammers use scare tactics to trick you into paying for unnecessary technical support services that you supposedly need.  For a while now many people have been reporting Microsoft tech support scams, phone calls from scammers pretending to be representatives of Microsoft.  These calls are fake and intended to scam you out of money or personal  information.  They might even spoof the caller ID so that it displays a legitimate support phone number from a trusted company. They can then ask you to install applications that give them remote access to your device.
DO NOT GIVE THESE PEOPLE ACCESS TO YOUR COMPUTER!
Using remote access, these experienced scammers can misrepresent normal system output as signs of problems.  This validates reports from users claiming that the fake Microsoft representative will say that your computer is infected and sending out information to the internet.  If you engage with them you engage with the scammers, they will offer fake solutions for your "problems" and ask for payment in the form of a one-time fee or subscription to a "support service".  They also are Microsoft Certified Partners and they will direct you to Microsoft's website to verify this.  In some cases it has been true these are actual Microsoft Partners.  However they are not from Microsoft and Microsoft does not condone these types of tactics.  They most likely have their partner status revoked after enough complaints.  However they probably just open up a new partner account with a new name again.
Remember Microsoft will not call you by phone to tell you something is wrong with your computer.
Report microsoft tech support scams
Help Microsoft stop scammers, whether they claim to be from Microsoft or from another tech company, by reporting tech support scams: https://www.microsoft.com/reportascam
What to do if you are a victim of a tech support scam
The Federal Trade Commission is mailing refund checks totaling more than $668,000 to victims of tech support scams that claimed to be associated with major tech companies to trick people into buying tech support services.  See the article on the FTC website here.  It would also be wise to have a REAL IT company like Boot Networks take a look at your computer and remove any software that was installed.
I hope this helps you to stay safe online and avoid this scam.