LASTPASS: THE BEST WAY TO MANAGE PASSWORDS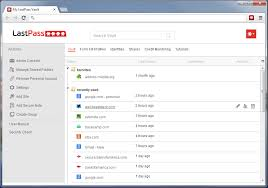 STOP FORGETTING YOUR PASSWORDS!
In today's digital world, it's imperative to constantly set unique, and complex passwords for every website that requires a login. Setting the password is the easy part, remembering them is the hard part!
Lucky for you there is an APP for that. The premium password manager, LastPass. Create a LastPass account where you can store all of your passwords, automatically retrieve them, and improve your security. See what we mean and try it out for 1 month FREE!
SAVE YOUR PASSWORDS AND KEEP THEM ORGANIZED IN YOUR LASTPASS VAULT
Store Your Password in a Secure Vault
All of your passwords and notes are stored safely in a vault. Easy-to-use, searchable, and organized the way you like.
Auto Fill every Password
Save passwords as you browse, and LastPass will autofill the login for you next time you sign into that account.
One Account or Many
Have multiple email accounts? Save unlimited logins for websites, and easily switch between them.
Convenient Access
Get started on any device, free. Your LastPass vault is backed up and synced automatically where you need it.
BETTER PASSWORD, BETTER SECURITY
LastPass has the tools to help you follow best security practices, with a unique, strong password for every account.
MANAGE MORE THAN PASSWORDS
LastPass does more than remember your passwords. Keep track of other important information & simplify your online life.
Keep Digital Records with Secure Notes
Store insurance cards, memberships, prescriptions, WiFi logins and more, so your information is backed up and encrypted.
Profiles for Online Shopping
Create a profile for every credit card and address, so making a purchase is just a few clicks – no typing required.
Share Passwords, Securely
Pay bills with a spouse? Send encrypted passwords to others, easily sync changes & remove access when they're done.
THE BROWSER OF YOUR CHOICE
Your passwords are always there, with extensions for Firefox, Chrome, Safari, IE and Opera, on every major platform.
[button text="dark" link="https://lastpass.com/f?14311142″ window="yes"]Click Here For Your Free Trial[/button]